Let me tell you a truth which apparently many reviewers in this country are either unable or unwilling to say –
'Cocktail' is a hackneyed tale with clichéd characters, copied plot lines and a jingoistic "Indian values win over Western decadence" powdering that is hypocritical since it comes from a film set and shot in London.
The plot –
Veronica is a girl with "issues", who deals with those "issues" by drinking and sleeping around. She meets an equally morally inept Gautam and they hit it off.
But when Gautam's mother drops by and presumes Veronica's goody two-shoes flat-mate Meera is his girlfriend, Gautam, the brave man that he is, decides to just go with it.
(How Veronica acquired this flat-mate is pointless since it has no bearing to the plot in any way whatsoever.)
Soon all three fall in love with each other. Why? Because.
The free-spirited Veronica, instead of either proving to Gautam that he is as much as a slut as she is or winning over the mother-in-law, just surrenders because he "loves" the "good girl". Even though he was more than happy to continue screwing Veronica while he worked things out.
In the end, man-whore Gautam gets his "good, shy, virginal, Indian values" bride and becomes a "good" Indian boy.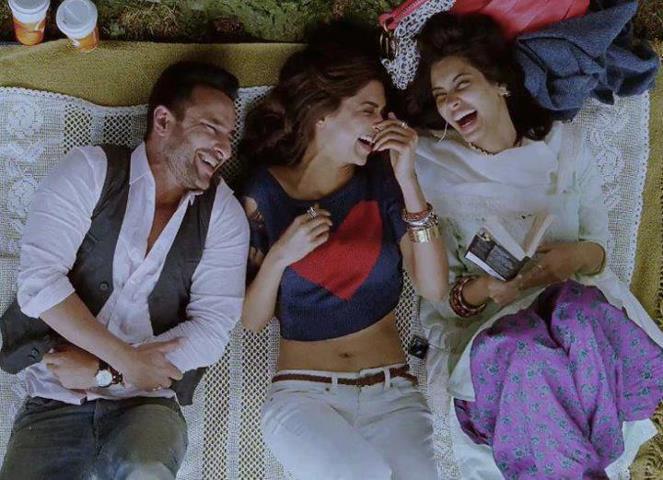 And Veronica? Well she just gets fucked but still remains friends. Because nothing cements a female friendship more than both women sleeping with the same man.
Also the creators of next film with an "over-the-top" Punjabi mother need to be shown a map of India with ALL the states outlined and a dictionary entry for the word "stereotype", before being taken outside and shot.
AND THE CENTRAL PLOT IS STOLEN FROM 'YEH DILLAGI' WHICH ALSO STARRED SAIF ALI KHAN AND RELEASED IN 1994.
Story of 'Yeh Dillagi'?
Two brothers, one care-free and a flirt, the other serious and principled, fall for the same girl (delightfully played by Kajol). In the end, after much drama and several twists, Kajol ends up with the principled brother, played by Akshay Kumar, while care-free Saif rides off into the distance, a wiser man but still happy for the couple.
Sound fucking familiar?
Now everyone has the right to enjoy a film for it's sake, however bad it is.
Or so I am told, not that I ever believed that piece of trite.
A bad film is a bad film no matter who makes it and how much ever "the film's heart is in the right place". Because when the film has obviously lost its bolts, I don't see the point in finding its other organs .
The source of all this angst are the strange and weird reviews the movie is getting.
It is almost as if some reviewers saw a completely different film than the one that the audience, other critics and all creatures on Planet Earth with a brain watched.
I am choosing the one of worst offenders to highlight. I chose this one because –
She writes for a respectable organisation.
She gave the movie the highest rating she could without losing ALL credibility.
She rated 'Cocktail' higher than 'Gangs of Wasseypur'.
Let us begin –
Anupama Chopra's review, Hindustan Times.
"Imtiaz Ali, who has directed love stories such as Jab We Met, Love Aaj Kal and most recently Rockstar, is a keen observer of heartache and the manners of beautiful people in big cities. In Cocktail, he functions as a co-writer. "
You spent the opening paragraph swooning over films Ali has directed…before telling us he co-wrote this film, not directed it.
Thanks. That was totally pointless.
And are beautiful city people a separate class of which Imtiaz Ali is an expert? Pray tell which Indian director is the expert of the ugly village people?
"He creates a love triangle that references Archie's comics, the 1980s television show Three's Company and the oeuvre of Aditya Chopra-Karan Johar…and yet feels new."
So this film copies at least three different concepts but you are thrilled that it still "feels new"?
If I repainted the Mona Lisa, it would also "feel new", but I wonder if Emperor Louis XIV would give me also a space in his bedroom for my efforts.
"It helps that the material is directed by Homi Adajania"
Oh there is the director! Not that he matters or anything but it is nice that you mentioned him.
"He reins in the melodrama, until the last half hour when emotions go ballistic and the plot gets needlessly convoluted …To discover this, you must get past the somewhat flat first twenty minutes"
Is this why you also reined in the melodrama and gave the film only three and half stars, not the five full beaming stars?
"This is the new millennium version of Kuch Kuch Hota Hai because Gautam and Veronica enjoy casual sex"
It would even only be LIKE K2H2 if Meera died in the first 20 minutes and the rest of the film was about how Gautam's child tries to reunite Veronica and Gautam as per the dying wishes of Meera.
Or Veronica and Gautam would have to the best of friends, but this time with 'benefits'.
And even then Meera would have to be the cool, hip mini-skirt wearing hot chick and Veronica would have to be the plain Jane.
That is assuming Veronica is Kajol, Meera is Rani Mukherjee and Gautam is Shah Rukh Khan.
Actually considering the plot of this movie and how things work out, for this movie to be ANYTHING like K2H2 we have to assume –
Veronica is Salman Khan, Gautam is Kajol, Meera is Shah Rukh Khan and Meera's husband is Rani Mukherjee.
Err…even then we have to assume….AAAAA MY BRAIN IS BLEEDING!
Woman! Did you just name-drop the first RANDOM film you could think of whose poster featured two girls and one guy?
Moving on…
"The polarity between Meera and Veronica is superficial and oddly old-fashioned"
Hey! A lot like the three and a half stars you gave the film and how much it sucks! Life does imitate art!
And how did you finish your review?
"This cocktail is full of fizz."
Oh something has definitely bubbled out of somewhere , though I doubt it's through the film.
So three and a half stars for this…
…and Gangs of Wasseypur? … three stars.
She closes that review with these immortal words –
"Gangs of Wasseypur is by turns absorbing and frustrating. Watching it feels like gorging on too much good food, leaving you feeling more exhausted than satiated.".
Yes I understand her plight, Having to use one's brain is an exhaustive thing indeed.
While her review may sound bad, there are others almost as worse.
Aniruddha Guha of DNA had this to say –
"In spite of the most insipid speech by a Hindi film hero in the climax, Cocktail will leave you upbeat and with a smile."
"For a frothy rom-com, though, Cocktail's slightly stretched"
"Stereotypes abound"
"Saif Ali Khan does nothing he hasn't done before"
After all of THAT, the review is rounded up with three and a half stars and this line –
"A rare moment in Hindi cinema."
Guha's review for Gangs of Wasseypur  gives the film only three stars and finishes with this line –
"Gangs Of Wasseypur, in sum, is style over substance."
What more can I say to a 'critic' who thought Cocktail had more to contribute to Indian cinema than Gangs of Wasseypur?
Actually quite a lot more.
These two are just examples. The sheer number of justifications that the many reviewers gave for this film is breath-taking.
From NDTV  to Bollywood Hungama, whatever they felt, how much ever they complained in the actual review, they gave it good opening lines, good closing lines and three solid stars.
Because an honest two or one and a half stars would herald the end of the world?
First Post actually has two reviews – one without any stars but with the word "Salud!" in the title and the other one with four stars!
I am surprised First Post didn't go all out and just demand that 'Cocktail' take the place of 'The Godfather' in cinematic history.
All these publications and reviewers felt no such need for the 'Gangs of Wasseypur' which they rated and judged quite accurately.
I wonder why?
Is it the studio? The actors? The producers? Because it is set in London and is all stylish and new-age?
Because they have causal sex in the movie and these reviewers are unable to leave the '90s behind so still find that an edgy idea?
Or is it that the connections these reviewers or publications have with the movie industry are too precious to risk over something like a real movie review?
Whatever the reason, it just plain sad.
You don't have to treat the flawed, copied hash that Bollywood keeps vomiting out as if they are misunderstood works of art.
As a critic, your job is to look at things differently, to push the industry into higher standards and give a 'critical' opinion.
But if your professional opinion, for whatever reason, is that movies like 'Cocktail' are some sort of bedrock of Bollywood and such inanity deserves patronage, then you also need to seek out some professional opinions.
From mental health doctors.
Honorable mentions of those who bothered to give a realistic review –